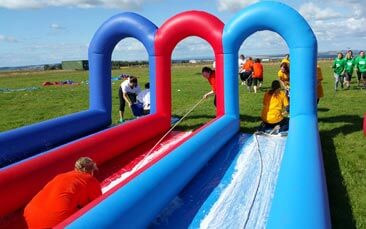 This hilarious Edinburgh hen party challenge is all about laughs on a grand scale. You'll be competing over some giant inflatable obstacles during an afternoon of foam, gunge, water, giggles and chaos where one team will emerge victorious and the whole party will have heaps of tartan fun.

Games you'll be facing include;

10 Maids A Milking
A relay race over and under the inflatable to the cow. First team to milk the cow and fill their bucket wins!

Caterpillar Tracks
The teams will step inside giant caterpillar tracks and need to work in perfect harmony in a race to the end of the course. It's a matter of can you get in time despite all the laughter?

Penguin Pursuits
Don't get in a flap during this relay race dressed as giant penguins.

Chicken Run
Charge through this giant inflatable obstacle course gathering chicken pieces as you go. Can you "takeaway" enough goodies to fill a bucket or will your happy meal not be quite so tasty?

Crafty Rafters
You need to get as much water from one end of the course to the other using a raft, teamwork and your guns.

Ski Funday
Mount up on these giant skis to race down the track. This really isn't as easy as it sounds but totally hilarious!

Water Works
An empty bucket at one end, a full bucket at the other. Using a human chain and transferring the water with nothing other than sponges, it's a race to fill the bucket. Simples.

Fast Food Frenzy
There are ten items hidden among the foam, water and gunge, which you need to collect and pass on to your nominated chef, Things are about to get messy.