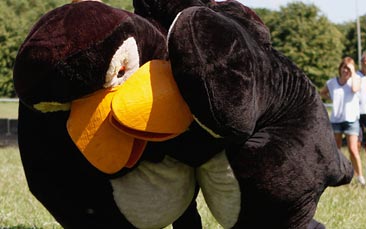 If you're a competitive group of hens who love adventure and laughter then this is most definitely for you.

Our huge and hilarious Brighton hen party inflatable games are 4 hours of non-stop madness and mayhem where the best team might not win, but you'll certainly have plenty of laughs along the way.

You'll be lining up against other hen and stag parties to do battle of the giant obstacles, and bouncy castles, many of which are taken from the original giant 1980's BBC TV game show It's a Knockout! And it's not just the obstacles that are 'mahoosive', you'll also find enormous props and vast costumes which are also taken from the massive show hosted by Keith Chegwin among others.

Fancy dress is definitely advised as you can be pretty sure you won't be staying dry; gunge, foam, water and all kinds of obstacles lie in wait for you. Many teams will come in full fancy dress or with special colourful printed team t-shirts, the crazier the better.

This really is all out, knockabout fun that will have the girls screaming with laughter, the umpires are on hand throughout to try and keep a reign on proceedings which you can be sure will be as wild as they are hilarious. If you've got any sneaky cheats in your team then they could be your perfect secret weapon as you try to sweet talk judges or simply trick your way to victory. Whether you decide to play fair or use all means at your disposal you can be sure of a truly memorable day of giggles where winning is everything.

And as all competitive hens know; it's not about taking part, it really is the winning that counts!