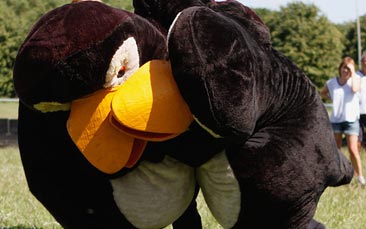 If you've ever watched those giant TV game shows where the contestants end up wading waist-deep in foam and gunge in order to claim their prize and thought to yourself "I'd love to do that..." then now's your chance with our Bournemouth hen party inflatable games.

Just like the mammoth TV game shows such as Total Wipeout and Pat Sharp's Funhouse, the games are designed for maximum laughs rather than gruelling sporting encounters. You might even recognise some of the original giant obstacles and costumes that were used in the ground-breaking It's a Knockout which was one of the biggest TV shows of its day.

Everything about this event is massive: the obstacles, the costumes and the laughter. But don't worry, you won't be stuck in costumes all day, they are purely for selected games. However, you will certainly be laughing all day long. These games are definitely no threat to the Olympics when it comes to sporting prowess, our Bournemouth hen party inflatable games are all about giving it your all and being game for a laugh.

You'll also find favourite games from the original BBC show such as:
Medieval Madness
Perilous Pendulum
Crazy Climber
Slippery Summit
Depending on your group size, you'll either be split into smaller teams or work as a hen party powerhouse against other teams which could include stag and hen parties. You can show those boys a little girl power!

At the end of the event, the referees will count up all the scores and announce the winning team. Then having beaten the opposition with your wily ways, turns of speed and perhaps the odd bit of outright cheating, why not celebrate in style at a top nightclub with guest list entry? Read more...