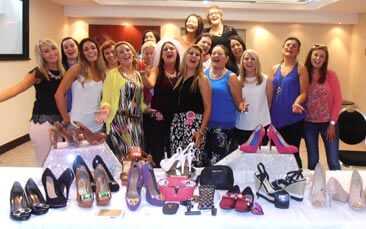 Shoes. It's one of the most magical words ever, even if you say it in slow motion, "sshhhooooooooooooesss". If anything it just sounds even better. If the bride-to-be has a passion for fashion and a bit of a footwear fetish/obsession then this crafty and sparkly activity is perfect for her big weekend.
Hosted by our crafty expert (when we say 'crafty' we mean she's an expert in craft, not that she's good at scamming free drinks), during our hen party shoe decorating workshop you and the girls can get creative designing and decorating repurposed bags, clothing, lipsticks, wine glasses, photo frames and, of course, shoes. You can give it the full bling makeover or keep things simple, the choice is yours with a wide array of tools and accessories at your disposal.
You'll be able to take your creations home with you and take them out that night! This is a fantastic hen activity to begin your hen do and to break the ice before your big night out on the town. You'll learn how to customise your objects with the guidance of an expert designer and all crystals will be provided, with a vast choice of colours, sequins, feather, bits and bobs available so your masterpiece represents you. Or you could get all the girls to decide on a theme and decorate your own #TeamBride accessories ready to party the night away in unison. You'll leave with your specialised items, the perfect hen party souvenirs.
The other brilliant aspect of our hen party shoe decorating workshop is that it's ideal for young fashionista hens or mixed age groups. If the bride's older relatives are with you or anyone who doesn't have the mobility for a dancing class or rock climbing then they won't feel left out during a session where you can stay seated if you wish and all the hens can chatter as you scatter that glitter. Bling, bling, baby!