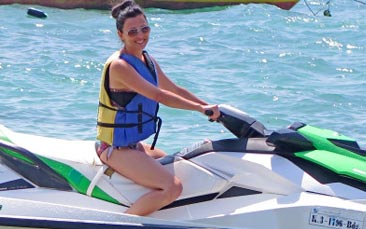 Sponges on the eyes, wrapped up in seaweed, listening to whale song. No thank you! If you're going to go coastal then you want to do it at high speed! This amazing activity will see you and the girls speeding across the waves looking cooler than James Bond himself (although James does look pretty good in his hunk trunks).
This is all about high-speed adventure. Blowing away the cobwebs and doing something totally new and utterly exhilarating. The fun starts on dry land, your friendly guide/instructor will show you the controls and how to safely ride your machines. All the hens will then have to buddy up, as you'll be riding in pairs. One hen will take the controls while the other hen sits behind, hanging on to her partner as you fly over the water at roughly "Waaaaarrrghhhhh!" miles an hour.
The target destination is the gorgeous Peacock Island where you'll slow down and relax with a little swim stop in the crystal clear Mediterranean waters. Not just a fab experience but also a nice way to get a little sun for those pre-wedding tans. Once everyone has recovered it's then back into the saddle as you switch drivers for the return journey. Your guide will be on hand and will lead the way back to the beach.
Want an even bigger adventure? You can upgrade to the one hour journey which takes you past the Sierra Helada Mountains and around Altea Bay.
Certainly not your average hen weekend activity, this is the perfect way to build some incredible hen weekend memories the bride-to-be and her hens will treasure forever. Ask our team about creating a complete weekend package including all your accommodation and nightlife to help save you time and money.