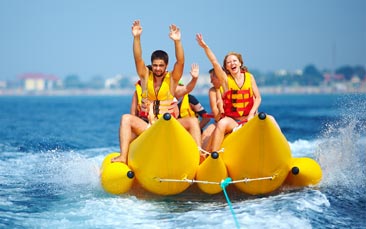 OK, so we all know the 'real life' stuff. You know, the daily commute, spreadsheets, exams, childcare, meetings... Life's too short NOT to have the best time possible and this ridiculous activity is the perfect chance to leave all the grown-up stuff behind and just laugh!
The sessions will start when you and your fellow beach babes getting kitted up with life vests. This is a good time to get all the girls lined up for a hen weekend team photo. You'll then straddle the big banana with all the inappropriate comments you would expect. Make sure you all hold on tight, the tow rope will gradually tighten and "Are we sitting comfortably?"
You're off!
The speedboat driver will race over the beautiful Mediterranean waters to give you a rough ride. You'll giggle and bounce over the boats bow waves, there'll be high speed turns, tricky twists, and quite possibly hens hitting the water. Each time someone gets a washing the boat will slow and glide back while the hens are helped back aboard the banana. Once you've got your bottoms back on the giant inflatable, your hands back on the handles the boat will once again put you to the test.
This adrenaline pumping activity works best with other beach based fun so ask our team about other hen craziness such as Jet Boat Rides, Paragliding or maybe just a nice spot of lunch.