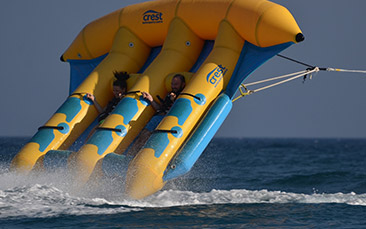 Sometimes life is just too easy, a bit too comfortable, with mobile phones, touch screen technology, Google on hand whenever you need, when was the last time you really tested yourself with something new and a little bit crazy? Well hold on riders and scream for speed, we're about to give you a hen challenge that will push all the girls to the limit. With some huge laughs along the way-heyyyyyyy!
The action starts on Benidorm's gorgeous beach, where all the girls will 'buddy up' in flying partners. You'll be riding the flying fish in pairs while the rest of the hens watch and laugh from the safety of the sand. For those on board the fish, the idea is simple, you've just got to hold on for as long as possible as the speedboat tows the massive flying inflatable along at high speed, performing crazy twists and turns along the way for extra thrills. Plus, of course, the whole beach will be watching you as you whizz past, but whatever you do don't let go to try and wave. Doh!
The watching is great, utterly hilarious in fact, right up until you realise that it's you getting on next. Gulp! On the plus side, you'll get an amazing view of the beach… as it zips past you at approximately "Aaaaaarrrrgh!" miles an hour. Yes, there are more gentle ways to spend the day, but this is Benidorm and it's a hen weekend. A weekend that demands you do something totally daft and utterly hilarious and the Flying Fish ticks all those boxes.
This is a brilliant activity, something hugely different that will push the girls and any hen hangovers to the max with the added bonus that all the action takes place at the beach where you can all enjoy the sunshine while working on those wedding tans. Win/win.
Larger groups could be split into groups of three and you'll ride the fish saddle style.