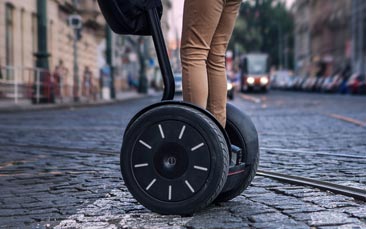 Hens on Segways, because that's how you roll! You'll be zipping along like upright "hen's angels" as you put on your helmets, get revved up and zip along a stretch of the beautiful Barcelona beachfront.
An English-speaking guide will lead the way and teach you how to control the Segways which are surprisingly easy to ride. Simply lean left to turn left, lean right to turn right, lean forward to go back and lean backwards to reverse or stop.
On your tour, you'll explore a coastal route, with the stunning beaches and the shimmering Mediterranean Sea setting the scene. It's certainly a fun and unique way to top up those pre-wedding tans and a really different hen weekend activity, making the weekend even more memorable.
Interesting Barcelona fact; the beaches aren't real. Originally the city didn't have any beaches so imported thousands of tons of sand to build tourist-friendly beaches in preparation for hosting the Barcelona Olympics in 1992. A handy knowledge bomb to drop in if you're ever asked to appear on Q.I.
While other hens might take a bus tour (yawn) or stick to walking, you'll be looking funky, cruising along, feeling the sea breeze and sunshine. It's this kind of fun that hen weekends were invented for! Plus you'll be able to get plenty of hen weekend photos with a stunning backdrop and all standing astride your Segways ready for action.
With just the right amount of madness, buckets of laughs and the glistening golden beaches beside you, this is a great way to see a little bit of Barcelona that many tourists overlook.