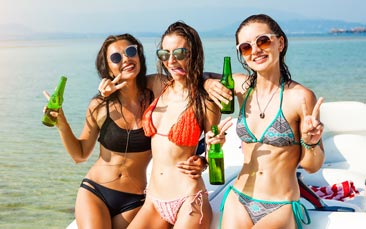 Barcelona how we love you! It's not just the fact that your sunshine helps give us great pre-wedding tans. It's not just the heat that encourages beach hunks to strip off their shirts (What? There's no harm in looking!). And it's not just the fact that you make the cold drinks taste even cooler. It's because you're just so much fun to hang out with!
This superb day of action on 'la playa' really will put a smile on all the hen's faces.
The BEERS
Two ice-cold beers each. Well, we don't want you getting dehydrated. And no, you can't pretend to get cramp just so the beach boys will come and tend to your medical emergency. But you can enjoy 'cervezas' while sitting on the golden sands.
The BALLS
A hen party is a great excuse for some fun and games plus it'll bring out a few of the girls' competitive sides (you know who you are). You'll play beach volleyball, have a limbo competition and more sun-kissed madness.
The BOARDS
Paddleboarding is the coolest of all watersports. You stand on surfboards (on calm water, not waves) and paddle using long oars. It's not just great fun it's also a brilliant workout so you can enjoy an extra cocktail that night without worrying about the calories.
The BODS
This is Barcelona beach. "Si, Barca-lona" which should translate as 'hot-bods' because the beach has plenty of them. So, as well as all the fun and games, the hens can enjoy themselves checking the fabulous array of Latino eye candy. You're welcome!