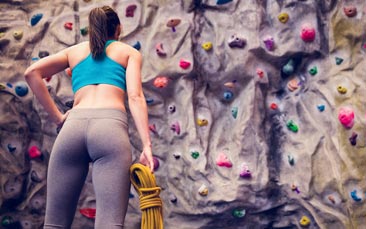 Yeah, this is not your average hen weekend activity, but then you're definitely not your average hens! You're more than happy to take on a bigger challenge and scale new heights to make this a truly memorable hen weekend.
You'll be picked up from your hotel and taken to the climbing wall where you'll be greeted by the friendly team. Next you'll be kitted up with helmets and safety harnesses before each hen teams up with a climb buddy. Working in pairs you'll reach for the sky (in an S Club 7 kind of way), while one climbs, her partner will be holding the safety rope to bring her down in one piece. It's then all change as the partners swap places so everyone gets plenty of time on the wall.
At the end of the session you can compare notes and check for any bruises in the cafe while enjoying a cold drink. Your driver will then pick you up and take you back to your hotel, ready for a night of more hen laughs.
Climbing is a great way to try something new as well as do something original that the bride to be will definitely remember.