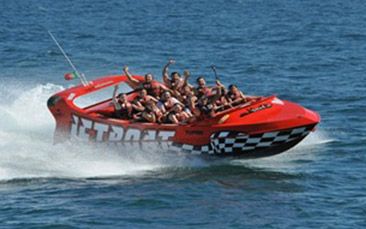 You could settle for just sitting on the beach like good little girls (yawn), or you can head out on the waves and experience an incredible adrenaline-pumping adventure aboard a jet boat!
Pedalos and pleasure cruises are fine if you're nine or ninety, but you're hens on a mission and that mission is maximum fun and this amazing seven-metre jet boat ticks all the boxes. Unlike a motorboat or powerboat that use an external propeller (wimps!), a jetboat draws water into a pump-jet inside the 440hp Yamaha engine and then expels the water through a nozzle to fire itself through the water like a missile!
Your mission is to hold on to your seats.
And scream for speed!
The skipper, on the other hand, will be whistling while he works, and his sole aim is to totally shake you up while giving you an amazing thrill ride as he pushes the seven-metre boat and its passengers to the max. Our Albufeira hen party jet boat is definitely not for the fainthearted, anyone with a back or neck problem is advised to give this one a big miss. It's also not suitable for pregnant hens. This really is high impact stuff and is sure to be one of the standout memories of your amazing weekend.
Out on the water with just the hens, you'll be far away from the tourist crowds and will get to see the stunning coast from a totally different vantage point as you skim along passing beaches, coves and caves. This is also about as far away from wedding planning as you can get! For even more good times you can add an extra half hour (ask our team for more details) as there are some amazing caves that are accessible by boat. Dolphins are also incredibly common in these waters, so you might get a fabulous sighting.
But mostly this is a day about fun, power and trying something totally new. Our Albufeira hen party jet boats is one adrenaline pumping, perfect for hens looking to do more with their weekend.