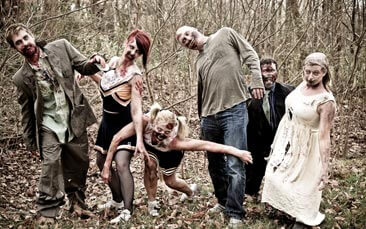 Band together with your beloved hens and fight to survive the shuffling masses in this ultimate nightmare scenario brought to life! You'll arrive in the midst of a terrifying zombie apocalypse and use military tactics and weaponry - not to mention a good measure of girl power - to escape virus free with everyone's limbs and brains uneaten.

The streets are void of life, screams echo around and friendly faces are few and far between. The hens will be pitted against a pack of stumbling, flesh-hungry adversaries with the sole task of living to fight another day. You'll receive expert military training, zombie-proof equipment and undead slaying weapons in order to fight off the hordes and escape alive. You'll even get a tactical master class to help you overcome the odds.

The nearly-wed won't be worrying about table decor, off-colour speeches or catering when she's face to face with a snarling horde of rotting enemies. It's the ideal way to distract the bride to be from any niggling nearly wed worries while also having an incredible time!

Put the pampering and glamour aside for an action-packed, white knuckle adventure that proves your hardy hen credentials while putting other hen parties to shame with your incredible, apocalyptic day out! Get together with your shuffling foes for an incredible group selfie to remember the day by and thoroughly confuse Facebook friends.