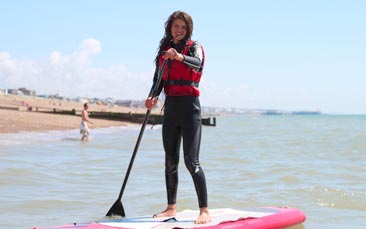 Did someone decide canoeing was too easy? Or did a surfer run out of waves? We're not sure how "SUP" was born but we're really glad it was.

Our hen party stand up paddleboarding classes are fantastic fun for so many reasons;
Physically demanding workout, to tone up while tanning.
A great way to build up a thirst for the evening's cocktails.
A new skill.
Yet another brilliant reason to be beside the seaside.
A reason to wear your new bikini.
It will be a new sport that you can do but your boyfriend can't.
Plenty of fresh air and sun.
It can be hilarious!
SUP is really easy for anyone to try and a big hit with 'slebs'. Famous faces who have been papped paddleboarding include:
Rihanna
Jennifer Aniston
Lady Gaga
Matthew McConaughey
Will Smith
Kim Kardashian
Vin Diesel
Orlando Bloom (naked!)
Katy Perry
Matt Damon
Cameron Diaz
Once all the hens have got the hang of it and are up and paddling, the instructors will introduce a few fun games and races to get the competitive spirit going between the girls. But be warned it can be totally hilarious so if you fall off, make sure you haven't still got your mouth open before you hit the water.
Hen parties are a great reason to go out and try something completely different and new. Hen party paddleboarding is most definitely different, it's a great way to get the girls onto the beach and into the fresh air so you can all top up those pre-wedding tans.
Experienced instructors will be on hand throughout to work with the group at your own pace to ensure all the hens get the most from the session. And once you get up on the board and start paddling yourselves along... It's a hugely exhilarating feeling and its quickly easy to see why regular SUP boarders and surfers are so addicted to what is a brilliant sport.