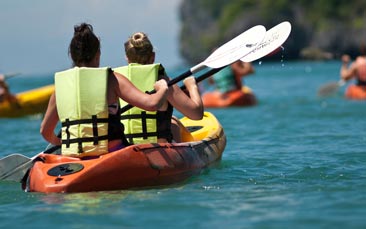 If you and the girls don't mind getting a little bit wet and wild, then kayaking is an absolute blood-pumping, adrenaline-fuelled triumph! As well as learning new skills and getting active with the girls, it's also a great way to see beautiful coastlines and enjoy some of Mother Nature's best work!

These kayaks are single or double seated crafts that glide across the top of the water and can take on both rivers and open water. Across the UK and Europe, we can offer you and the ladies a selection of different challenging courses. You'll take on some tricky obstacles both man-made and natural. You might even find your inner Lara Croft coming out on this water adventure!

But don't worry, your kayaking hen party can be as extreme or as laid back as you like. So whether you fancy flying down some fast running rapids or just going for a gentle splash on the river, you're sure to have a fabulous time. And with experienced instructors on hand at all times, even girls who've never sat in one of these awesome boats will soon be paddling like a pro.

You can choose the format of your session, so if your bride-to-be is the more adventurous kind, then your friendly instructor can transform your time on the course into a full-blown white water experience. But if your group is suffering a little from the night before, you can enjoy a tranquil, relaxed exploration of your courses stunning natural surroundings!