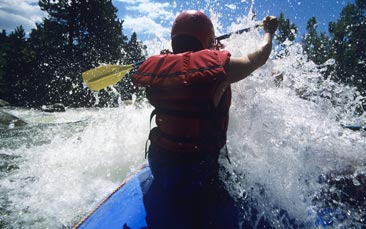 If you're looking for new horizons and a sense of daring adventure then our hen party canoeing excursions are the perfect trip to whip the hens into shape in seafaring fashion. And you don't need to go overboard on price for some fun and often hilarious action with our budget-friendly hen party packages.

This is a chance to enjoy the great outdoors and some spectacular scenery as well as do something a little different from the usual hen parties. It's also a great way to blow away the cobwebs and soothe tender heads from any excesses the morning after the night before.

Canoeing involves one-woman boats as you leisurely paddle down a river or canal or if you're in the mood you can head for more extreme waters and a little more extreme fun. It's relaxing, serene, sometimes energetic action that'll see you and the girls getting some cooling fresh air as you soak up some sun at the same time.

It's a great way to get outdoors and have some laughs with the girls, and sessions can either be in a relaxed style, where you'll be rowing along and watching the world glide by or hilarious adventure. You can even try 'canoe stepping' which involves all the boats lining up side-by-side with the hens holding them together as you take it in turns to stand up and walking the length of the newly formed floating pontoon... if you dare?

White waters or plain sailing, we have hen party canoe trips to suit every taste and thirst for adventure on what will be a day the bride-to-be and her guests will look back on for years to come. And let's not forget those all-important team photos of all the hens gathered together in the life vests and sailing outfits.

But it can be thirsty work so why not end a great day of hen party fun with Guest List Nightclub Entry to give the nearly-wed a taste of the A-list lifestyle?