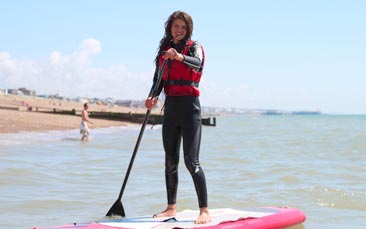 If you and the girls are after the best water-based action around then beach babes, rejoice! Bournemouth stand up paddleboarding is one of the coolest watersport trends to come out of the past few years. This unique activity will get you and the girls balancing on individual longboards to push yourselves through the water with a powerful single-bladed paddle.

Though beginners may fall in the water a few times (providing plenty of giggles for girls who will probably soon join you in the water!) it's a relatively easy activity to pick up, but it's extremely tricky to master. Paddleboarding is adrenaline-fuelled fun once you get the hang of it, and it's not a bad workout either. With experienced instructors on hand at all times, even girls who've never even stepped on a surfboard before will be taking to the water like a pro.

Bournemouth stand up paddleboarding is a must for girls who are looking for a unique and exciting session on the water; it really is fabulous fun that's sure to leave the ladies with a huge sense of accomplishment. And yes, there's always the chance you'll get to enjoy some surfer-boy eye candy on the beach!