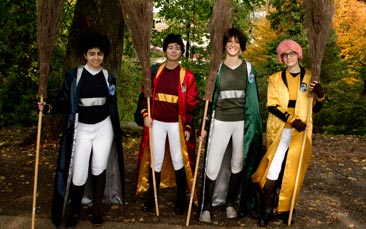 Hen Party Kwidditch Rules
Teams start on opposing sides of an oval pitch with three hoops of differing heights at each end of the pitch.
A quaffle (ball) is released to start play.
The aim of the game is to get the ball through one of the opposing teams three hoops. Each goal is worth ten points.
Teams can use bludgers (dodgeballs), throwing them to stop opposing players.
If a player is hit they must immediately drop the quaffle or bludger they are carrying.
Players that have been hit are also temporarily out of the game.
Players can catch the bludgers to avoid being hit.
At a given point in the game, the snitch will be released.
Teams can score 150 bonus points by securing the snitch.
The team with the most points are the winners.
Hen Party Kwidditch - Players & Officials
Quijudge
He's in charge, has a whistle and rule book and won't be swayed, no matter how much you batter your eyelids at him/her.
Snitch

A golden ball that's worth a bonanza of bonus points.
Chaser
Chasers score points by throwing the quaffle (ball) through the opposing team's hoops. Chasers can be physically intercepted by the opposing team's chasers or keepers.
Beater
Beaters knock out opposing players by hitting them with a bludger (dodgeball). Attempt to hit the opposing team's players with bludgers (dodgeballs)
Keeper
Keepers defend their team's hoops to prevent the opposing team scoring points, they can physically intercept opponents. Keepers are safe from bludgers while in their keeper zone. Keepers may also act as chasers outside of their keeper zone.
Seeker
Seeker's main role is to catch the snitch. Seekers are allowed to physically intercept other seekers.