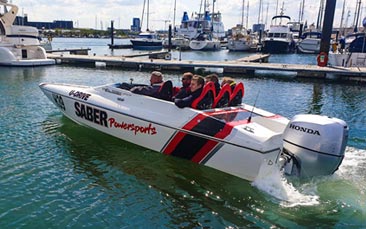 If you're looking for a boat sized dose of heart-pumping competition with the girls on your big weekend, then our hen party powerboating grand prix is just the ticket! These awesome powerboats will really throw the ladies around, and you'll be challenged to the max as you skim over the water at high speeds. Any pre-wedding stresses the bride-to-be might be carrying are sure to be blown away!

Once you've adorned the rather fetching power sports racing team kit and safety gear, you'll have a quick safety briefing where you'll learn how to get the most out of these boats. Listen up, ladies; you'll need all the help you can get if you're going to take the title of powerboating grand prix champion!

Once you're all suitably pumped up and ready to hit the water you'll head to our fantastic off-shore circuit to take on the amazing 'Honda 150 Challenge'. This involves you and the girls taking it in turns to get hands on with a seriously badass BF150 Powerboat to battle it out for the best time in 3 incredible laps around a rectangular circuit.

However, with expert help on hand at all times, the competition might be closer than you'd expect! The bride-to-be is sure to love our powerboating grand prix. It's a fantastic day that'll see you take on a truly adrenaline pumping competition with the chance of winning some fabulous prizes!