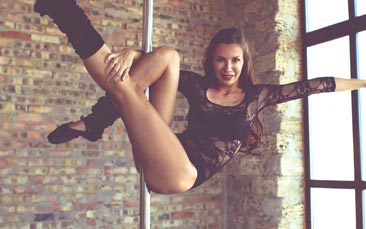 Pole dancing is fantastic. It doesn't matter your shape, size, how much exercise you do (or don't do), this is all about having fun and lots of laughs. Very cheeky hen party laughs because we all have that one friend... unless that friend is you?!?
The class takes place in a totally private venue, there'll be no prying eyes and there's absolutely no nudity required. You can stay in your workout/sports clothes. Shorts can be advantageous for slightly more grip on the pole.
To start with you'll meet your friendly instructor and have a quick warm-up. She'll show you a quick routine before you all get into action. You can expect plenty of hen party banter as you wiggle, giggle, wriggle and glide your way around the pole. Everyone will learn some new tricks and while there are lots of laughs, it really is surprising what little tips you pick up. You'll learn spins, grinds, inverts, gripping as well as some very sultry floor moves.
As well as the pole dancing you'll learn the art of lap dancing tricks. Not something you'll need at the next office Christmas party (we hope!) but still fun tricks to know.
Finally, there is a mini routine for the bride-to-be to perform. It's at this point you can guarantee there'll be plenty of jokes about the groom and the wedding night. In fact, it would be remiss not to.
This classic hen party activity is a firm favourite for Bristol hen parties. Not only is pole dancing hilarious fun, but it is also a fantastic workout! It's the perfect start to any hen weekend and will get the group worked up and ready for the next few days. It is ideal for anyone, no matter what shape or size you are!