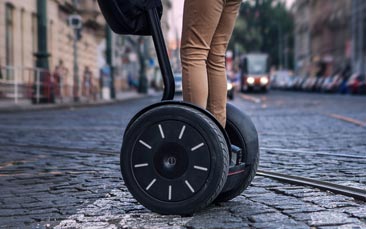 Want something totally different and a little bit bonkers? Then our Marbella hen party Segway tour could be just what you're looking for.
With an English speaking guide showing you the way, you'll head out on a tour of Marbella. You'll zip down the seafront, swerving past the tourists and checking out the hunky eye candy along the Golden Mile. It's also a great way to have a look at the best bars, clubs and restaurants. Your guide is a local and will be able to give you an idea of the best places to visit that evening.
What is a Segway?
A Segway is a funky upright personal transporter, it's kind of like a modern chariot. But sooooo much fun to drive.
How fast can they go?
Our Segways are set on a beginners speed which will allow you to travel over 6mph. That might not sound much at first but wait until you get on board and try steering.
Are they easy to steer?
They do take a tiny bit of getting used to (although some people are just naturals) however after a very short practise session you'll all be zipping along.
Lean forward to go forwards. Lean left to go left, right to go right and lean backwards to slow or stop the Segway. It really is that simple.
It's pretty unlikely that any of the hens will have tried this before making it new and fun experience unique to the bride's big weekend. Plus you'll be outside and working on those wedding tans. Win/win!