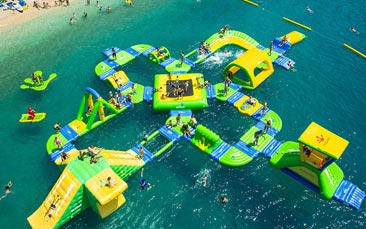 Have you ever had one of those days when you just feel like you've had enough of being a grown-up? Well then, this is the perfect answer to all your prayers.
This giant assault course is utterly mad and totally hilarious! You can climb, swing, bounce and slide your way to happiness as you and the rest of the girls regress to 7yrs olds and charge around the course like you've just been given for too many e-numbers and bottle of Supa-cola.
Just like the big kids you are, you can charge all over the giant and challenging assault course. The course itself is made out of giant, brightly coloured inflatables and floats over the stunning blue/green Mediterranean waters. The obstacles consist of:
Rope swings
Climbing walls
Balance beams
Dive platforms
Waterslides
Water 'pits'
Trampolines
Bridges
Speed banks
And more...
If you have waterproof cameras we'd definitely urge you to take them with you and capture all the fun. And if you really want to take things up a notch you could even set the hens an extra challenge by making it a full-on race between the hens.
Whatever way you decide to take it, this is a really unique and unusual activity that will have the girls in complete hysterics from beginning to end. Especially if the bride-to-be or any of the other hens have always had a secret wish to try out the big TV show assault course like Wipeout, Ninja Warrior or Can't Touch This... Charge!