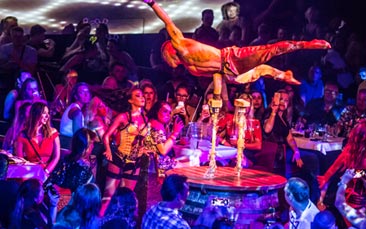 Mmmmm Johnny Depp as Jack Sparrow, there's something about pirates that is strangely sexy. But you have seen nothing quite as sexy as these pirate bad boys. This stunning show includes smoking hot dancers, topless hunky acrobats, aerial performers and hilarious comedy.
This is strictly an adults-only show and perfect for hens looking for a party atmosphere. Packed with special effects, electrifying stunts, sexy costumes and some quite remarkable biceps (welcome to the gun show ladies). And that's before we even mention rippling six-packs so strong you could file your nails on them. Plus unlimited beer, sangria or soft drinks. Then after the show, the venue turns into a massive nightclub.
A live show might not seem like your average hen night, but this is most definitely not your average show, Pirates Reloaded is a real spectacle bringing in all your favourite elements from TV variety shows such as BGT, with high energy dancing, laughs, crazy stunts and jaw-dropping speciality acts.
Sexy dancers
Stage fighting
Aerial artists
Burlesque babes
Comedy
Fire performers
Special FX
There are three different types of ticket available:
Main deck
No seat is more than 15 metres from the stage
Unlimited beer, sangria or soft drinks
Quarter Deck
Fast track entrance
Preferential seating
Unlimited beer, sangria or soft drinks
Captain's Table
Best seats in the house
VIP area
Complimentary drink on arrival
Souvenir ticket & VIP lanyard
VIP waiter service
Unlimited beer, sangria or soft drinks
Now come on ladies, it's time to practise your pirate impressions. "Arrrrr..." We can't hear you, "ARRRRRRGH!!"