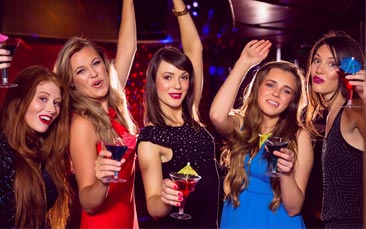 Why waste time standing outside a club feeling thirsty when you could be inside hitting the dance floor?
Our VIP nightclub package will ensure you and the girls make the most of every dancing minute and give the bride some well-deserved VIP treatment. Your nightclubbing fun will start with our friendly local guide who will escort you to the club and past all the queues, at the door your names will be on the guestlist giving you instant access the club.
But it doesn't stop there...
Inside a VIP table/s will be waiting for your group complete with a drinks selection plus mixers. You can share the drinks and a few laughs before hitting the dance floor and have your own table to act as a meeting point. Finding the best places to party in a new city can be a worry but GoHen have already done the legwork for you, not only can you be sure of hitting the best clubs in town, we'll also have those drinks ready for you, so that's less time spent queueing at the bar and more time on the dance floor. It's exactly the way any special night out should be and it means less worries for you so you can join in the fun with the rest of the hens.