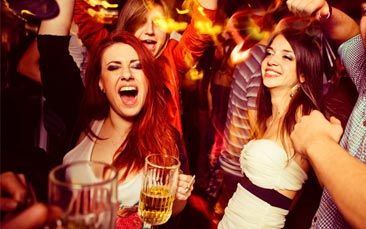 Did somebody say free drinks? Yes, we did, this is the hen night out that just keeps on giving, it also takes all the hassle out of being in a new city.
Why choose an organised bar crawl?
If you're strangers in a strange land you don't want to waste your limited time going into the wrong bars. It's also nice to have someone looking out for you and lining up a few drinks.
Our guides are in touch with the newest, hottest bars so you can be sure you'll head to the best party action.
That means no hassle for you, when everyone is looking for you to lead the way and provide them with the best bars you can hand over responsibility to your guide, leaving you free to relax and enjoy your night.
We get free drinks?
Well, we don't want you getting dehydrated on your big night out. So we'll arrange some welcome beverages in each bar. Plus discounts on extra drinks.
Bar No.1 - You'll meet your guide at the first bar, inside you'll get a free shot to get the party started. You'll also get a discount on mojitos. "Felicidades" is Portuguese for "Cheers".
Bar No.2 - One whole, delicious hour of free beer or sangria. At the risk of sounding like your mother, remember to pace yourselves, this is Lisbon, they party until late so it could be a long night.
Bar No.3 - You'll get another shot and a discount on one drink.
Nightclub - You'll get easy entry to one of the city's best clubs. Inside you'll get another free drink so you can raise a glass to the nearly-wed before hitting the dance floor. Entry will be between 01:00 -01:30. Party time starts much later in Lisbon.
Who is the guide?
We use local, English-speaking guides. They know what's hot and what's not so you'll head to the funkiest bars. They also know the local drinks and drinking customs, so when in Rome/Lisbon...