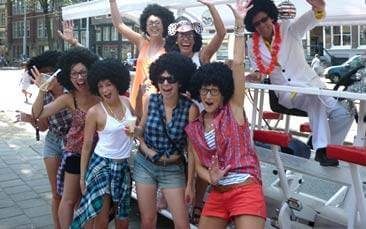 It's always a toughie when you're on a hen party; you're aware the wedding is not far off and you want to stay in shape but also there are bars open and you really fancy a drink (or two)... What is a girl to do?
Well, now you can have it all. This amazing Lisbon hen party beer bike is like having your very own pedal-powered pub. You'll have your very own driver/landlord to keep the bike pointing in the right direction. But all the power must come from the hens. You're totally responsible for keeping moving so as you pedal the pedals, the driver will steer the steering as you drink the drinks.

You certainly don't get this in your average minicab! It's possibly one of the finest modes of transport ever invented. Each hen can enjoy six drinks with a mix of wine, beer, sangria and soft drinks available so you can pace yourselves. And this is an hour's fun in the sun so it really is best to make those drinks last and always drink responsibly.
While enjoying some of the weekends biggest laughs, you can play your own songs. Ok, so as far as exercise goes it's probably not on the training schedules of most Olympians but are they having this much fun while running around a track? Hell no! It's a slightly mad but utterly hilarious way to get out and about in Lisbon that all the girls will love. Bottoms up!