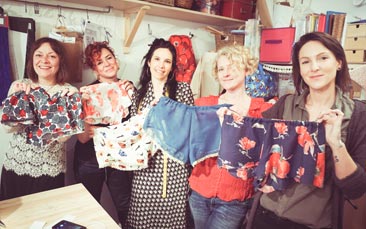 Don't have a 'pants' hen party. Get creative and make a special memento to take away with you on our fantastic Brighton hen party lingerie workshop. Ideal for crafty hens or cheeky groups of all ages, you'll learn how to make your own knickers which you can then all agree to wear on your big night out (with potentially hilarious results).
We have two workshops to choose from:
Pretty Pants
Vintage Style Knickers
You'll have a fantastic range of gorgeous fabrics, ribbons and trims for you to choose from as well as our knicker expert who'll be with you throughout the session to show you the ropes... Although we're hoping you're not planning on making knickers that will need ropes!
A matching garter perhaps? Or how about a monogram? You can be as fanciful or frivolous as you like. And there's nothing wrong with good old comfy pants! Just remember, when it comes to fun hen party lingerie, it don't mean a thing if it ain't got some bling!
This is a great activity for a group of mixed aged hens and it doesn't matter if not all the hens can sew, our expert is there to help out. It's not only hilarious fun but also a great chance for all the hens to catch up with the bride-to-be's wedding plans.
And if you're feeling especially crafty or love vintage then you can add another activity to your day.