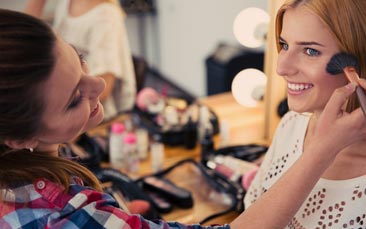 The makeover is a sacred female ritual performed before every big night out and no hen night would be complete without it. But we know there is a difference between pre-drinks makeup and a professional job. So why not hit the town looking your absolute best with an expert consultation and beauty treatments session that'll leave the hens looking and feeling fabulous, ready to kick start the hen party celebrations.

Our makeover centre will welcome the girls in with a few drinks (starting things off as you mean to go on) before beginning the expert initial consultation. The first consultation will help to work out what you like and what the stylists think would look good on you. Then, together with your stylist, you come up with the look you want for the evening and let the experts do the hard work while you sit back and relax. After that, all that's left is for the treatments to be applied, leaving you looking gorgeous and glamorous for the evening ahead!

You'll be looking better than ever after having your hair and makeup done by a professional stylist. You'll also be able to spend more time bonding with the girls, and less time rummaging around for the eyelash curlers and tweezers - and there's a manicure and a bottle of bubbly thrown in too, just to top the whole thing off. If you want to get the night off to a good start and get ready together feeling like the VIP's you'll end up looking like, a makeover hen party is a must!