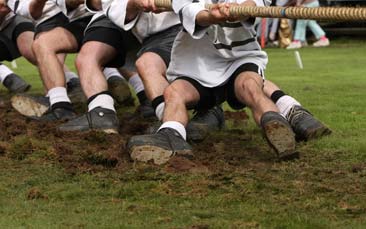 This is a proper hootenanny where you'll spend as much time laughing as you will scoring points and it's absolutely perfect for competitive hens who like a laugh and want to get stuck in. There's also the added bonus of the chance of seeing some hunky highlanders in fine kilts.

You'll be split into teams and then face a series of challenges. The marshals will be on hand to show you how each challenge is done, keep score of the results and keep all the teams inline to ensure there's no underhand skulduggery from point hungry hens.

At the end of the session, one team will be announced the winners with a prize presentation while the rest of the hens will be left to cry into their porridge.

Depending on the weather possible events may include:

TOSSING THE CABER
Simply pick up an entire tree trunk and throw it as far as you can. Easy. To give you a sporting chance you will be using slightly smaller cabers.

HAGGIS HURLING
Bred and raised locally these little critters are hard to catch. Thankfully all you've got to do is throw them as far as possible.
Please note; no live haggis were harmed during the making of this event.

ARCHERY
What better traditional sporting challenge would better suit a band of particularly merry women?

FLY CASTING
It doesn't get more rural than this. You'll need a feather-light touch and real skill to master this technique used in salmon fishing.

SHOT PUTT
Quite literally requiring balls of steel. You'll be throwing steel balls of varying weights into scoring zones.

THE WHISKY CHALLENGE
A cunning test of accuracy. The last hen standing wins the bottle!

BAGPIPE PLAYING
Windier lasses or those with more lung power might be at an advantage. Although it still might end up sounding like strangled cats.

WELLY HURLING
How far can you throw a "festival flip flop"? Chuck your welly the furthest to claim the title.
Please Note; Games and challenges may vary depending on the weather and groups size.