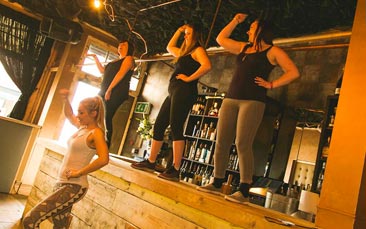 In the year 2000, a cult film phenomenon was born. It involved scandalous dance moves, sexy, empowered women and a non-stop pursuit of total stardom. It could only be Coyote Ugly. Now, you and the girls can live your ultimate chick-flick fantasy in our Coyote Ugly hen party experience.

This is truly a unique dance experience which offers dancing thrills unlike any other. You'll head downtown on the afternoon and meet our experienced dance instructor. Then, having decided on what song will soundtrack your unforgettable day of dance (we highly recommend Coyote Ugly classic 'Can't fight the moonlight') you'll learn a sensational, sexy dance routine.

Once you've all transformed into Coyote Ugly starlets, you'll feel empowered and ready to take on the mean streets of New York. While, unfortunately, we can't take you and the ladies to the real Coyote Ugly bar in the big apple, we can certainly do the next best thing.

After your session, you'll head home, get changed and arrive at our Brighton bar perfect for this activity. This is an amazing activity that'll see the girls strut their stuff and let their wild sides out as they transform into the sensational dance divas of the hit movie. Our Coyote Ugly hen party will see the bride-to-be at her glittering best on the last weekend of her single life.

This is a fantastic way to get the girls moving and grooving, enjoy a fun, physical activity and break the ice amongst some of the girls who may not know each other so well. We would say that if you're feeling really confident you could perform this at the wedding reception, but we get the impression the bride's grandparents might faint if they saw this...