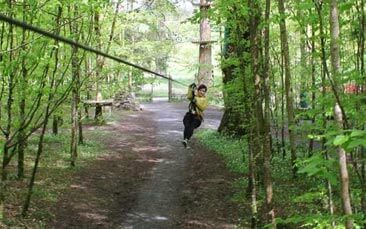 If you're after an adrenaline-pumping, white knuckle hen party adventure then this phenomenal forest high ropes course ticks all the boxes.

Set in a simply stunning forest location there are over 80 aerial challenges built into the trees, spread over 5 separate circuits, including an amazing array of individual obstacles;
1.2km course
5 separate circuits
Over 86 obstacles ranging from 1 - 20 metres high
800m of zip lines
Longest zip line 150m
Rope bridges
Tightropes
Cargo nets
Climbing walls
Zip lines
Surfboard
Rope ladders
BMX fly
Base jumps
You'll be given an induction and safety briefing before being fitted with harnesses and shown how to hook up to each obstacle for safety. You're then free to take to the course and work at your own pace, meaning none of the hens will get left behind or feel they're being pushed too hard. The course is split into 5 separate circuits;
Green Circuit - This is the beginners' course for you to practise your skills and build up your head for heights.
Orange & White Circuits - Ranging from 2 - 8 metres high, this is a great team challenge as things start getting higher.
Blue Circuit - Reaching a height of 15 stomach churning metres the blue circuit includes 600 metres of zip lines.
Red Circuit - Gulp! This one is for the really brave among you and reaches a white-knuckle 20 metres in height. Not for the fainthearted but the buzz is absolutely incredible when you conquer this formidable circuit.
So set your game faces and get ready to tackle this superb Cork hen party high ropes course.