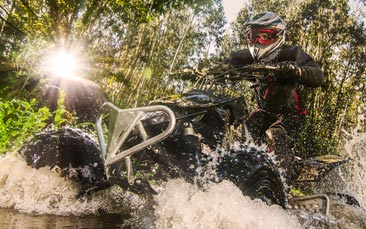 It is increasingly common for hens to go against the grain when it comes to activities, and challenge the long-held misconception that activity days out are just for the boys.

If you and the girls are looking to get up and active with something adventurous on your Bristol hen do, then fear not! This quad trekking session - situated on a 200-acre farm in attractive country woodland overlooking the Bristol Channel and Wales - is sure to tick the boxes. First, you will get familiar and comfortable with the machines through a number of warm-up exercises to get you familiar with the controls and speed of the quad bikes.

Once you have mastered the basics you will then be taken on a 5km trek through beautiful woodland, making your away up and down steep banks at a speed of up to 45 miles per hour that will give you quite the ride! Then it is time to make your way back and finish with a time trial to establish who will have bragging rights for the rest of the weekend.

The perfect activity for the adrenaline-junkie bride-to-be on her hen party in Bristol.