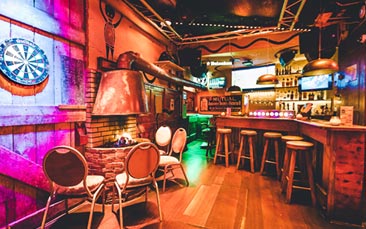 Amsterdam is a fabulous city, totally cosmopolitan and full of influences and flavours from around the world. So, it's no strange thing that there's an amazing Aussie diner slap bang in the middle of Rembrandt Square, surrounded by the best bars and clubs.
The diner has a really great laidback feel, there cool décor, good tunes, plus it's next to a shooter bar with 70 different shot types! There's also an extensive food menu and an amazing cocktail menu with some typically 'hen party' names.
We'll arrange for a table to be reserved and waiting for your group. You can order your meals in advance or wait and pick on the night. One thing that we always like to take care of is having your bill paid in advance, so there's no quibbling over who had what or making up for Jenny who only had a lettuce leaf, breadstick and eight vodkas.
Most fun is the fab menu. Who will be most daring and try something a little bit different? If it's good enough for Ant and Dec, then it's certainly suitable for a hen party. Enjoy!
Menus are seasonal but may include:
Burritos
Nachos
Kangaroo Steak
Rib Eye Steak
Ribs
Chicken Wings
Beef Burgers
Chicken Burgers
Kangaroo Burgers
Beef & Ale Pie
Chicken Pie
Kangaroo Pie
Chocolate Nachos
Melting Cake