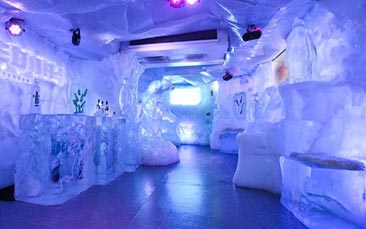 If this was a cookery show there'd be a bald guy with glasses saying "Hen party bars don't get cooler than this." And he'd be right!
Seeing really is believing and this entire bar is made of ice. 60 tonnes of ice!!! And we mean everything; the tables, the chairs, the walls, the bar counter… There are ice carvings and sculptures, ice works of art, even the drinks you'll be served are made of solid ice. Even the barmen's cool. Actually, working there the poor guy's probably freezing.
The activity will start with you being met by one of our friendly local guides, they'll take you to the bar which is close to the city centre. Before stepping inside you'll each be given a thermal jacket and gloves to wear to protect you from the freezing temperatures inside the bar. For safety reasons, there is a limit to how long each group can stay inside the bar to prevent people suffering from hyperthermia. But while inside be sure to get plenty of cool photos of you wearing your polar outfits and sipping your frozen cocktails.
This is a great way to start the evening, a few drinks in a really unusual bar, some fun photos and giggles. Plus you'll be within easy walking distance of more great clubs, bars and restaurants. So step inside, and raise a glass to the bride to be, might be a good idea to wear your Bridget Jones' pants, just to stay super warm. Cheers!