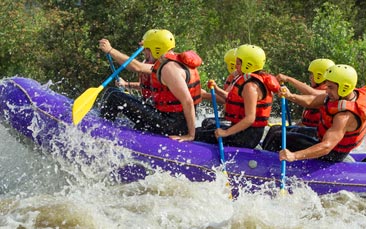 Here at GoHen, we love hen parties in all different shapes and sizes, but sometimes you really need to get out and find some adventure, unleash your inner Lara Croft and kick the bucket list (or is it tick?). Our Edinburgh hen party white water rafting is a real outward bound experience that the hens (and especially the bride-to-be) will remember for years to come.

Certainly not for the faint-hearted these naturally occurring rapids will pit you against Mother Nature and you hurtle down fast water to attempt to reach the bottom still in one piece... and still in the boat. You'll be fully kitted up with wet/dry suits, helmets and life vests and under the guidance of a professional instructor who will teach you all the basics. You'll also play a few fun games to put some of those basic skills into practice before attempting the white water. The guide will then help manoeuvre the boat to make sure you're all kept (relatively) dry and inside the boat at all times.

However, you really will get wet, during training you can expect some of the games to involve a few hens taking a quick swim but it's all brilliant fun in a controlled environment with expert guides at hand.

Then when you hit the water you feel that much more confident to face all the natural obstacles including a 20ft two-tier drop. The sense of achievement is quite simply fantastic and something you'll remember for a very long time.

Top Hen Tip - White water rafting can really build up an appetite so plan ahead and have a table booked so you're not left hunting for a restaurant in the evening.

Please note; the site is over an hour from Edinburgh city centre. Transfers to and from your accommodation can be arranged.