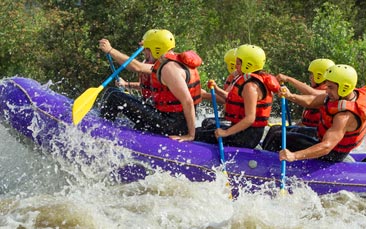 Cardiff is known as a thriving city of culture and fun, and a perfect location for an unforgettable hen weekend. The Welsh capital has a perfect mix of buzzing nightlife and exciting daytime activities - ranging from the laid-back to lairy. On the more energetic end of the scale is our amazing white water rafting package, ideal for any hens looking for an adrenaline-fuelled afternoon. If you're looking for adventure, you've come to the right place.

Taking to the water in boats with a capacity of 6 people each, the aim is to navigate tricky tracks and waterways and to work together to avoid capsizing and avoiding obstacles. You will be steering these four metre inflatable rafts down a 250 metre white water course with the help of a fully qualified instructor who will use their expertise to ensure a successful action packed adventure. This is a world class facility with some big water to overcome!

Great for a team of hens that are happy to work together, as you'll need to be pulling the same direction to ensure you don't end up the proverbial creek without a paddle.This an amazing experience guaranteed to get the adrenaline flowing ahead of the big night out and something you'll all be talking about for years. A genuine thrill ride which will have you working hard and laughing harder as you battle the elements.