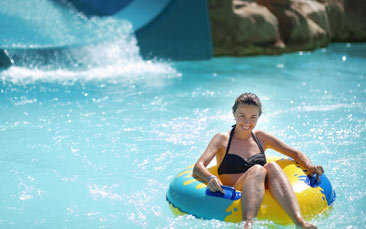 There are hen party activities that are sophisticated, educational, classy, chic, elegant… A waterpark hen party is none of those!
Because let's face it, sometimes being a grown-up is a bit overrated, yes you can stay up until however late you want, you're allowed to drive a car and buy a lottery ticket, you can buy wine… In large glasses. But wouldn't it be good to just regress for a bit, forget all and any responsibilities other than ensuring the bride-to-be has the best time ever! A whole park, dedicated to having a laugh, while getting a tan. Win/win!
Wave pools
Kamikaze slides
Flumes
Swimming pools
Doughnut rides
And more!
There are changing rooms on site but if you simply can't wait you can arrive in your swimwear (it'll soon dry in the sun) and then jump straight in. Most parks also offer lockers and baggage storage.
A million miles away from the seating plans, flower arrangements and wedding notebook, this is the perfect escape for the bride. It's also a great way to ease any tender hen heads if some of the group partied a bit too hard the night before. This is about forgetting it all and just going bonkers. It's also a fantastic way to work on those wedding tans as you have fun, totally regress while letting the sun work its magic ahead of those all-important wedding photos (step away from the fake tan, why look orange when you can look beautifully bronzed?).
As well as storage the parks have a range of different cafes, bars or restaurants to keep all the hens well fed and perfectly hydrated. You'll also find loungers, sunbeds and day beds (facilities and extra charges will vary depending on your chosen location).
So what are you waiting for? Come on in, the water's lovely!