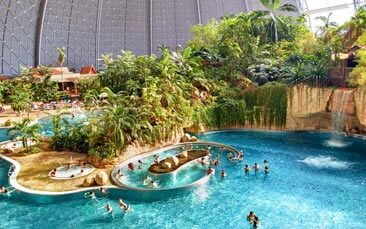 If you're looking for some rest and relaxation during your Berlin hen party then there is no better place to get away from it all than our superb Tropical Water Park. This is the perfect getaway for the bride-to-be after weeks of stressful wedding planning.

Diving inside you'll find:

Water Babes
You can relax in the crystal clear waters of the lagoon, luxuriate under the waterfall and hidden grotto. Water babes will also enjoy the balmy waters which are kept at a gorgeous 28C. There is also 2000 metres of sandy beaches to enjoy and copy whirlpools to soak up the news with the rest of the girls.
Adventure Lovers
Daredevils can take the plunge down Germany's tallest waterslide which has four separate slides and four different speeds, from sedate descents to the high-speed turbo reaching up to 70km/h. The slide itself stands a whopping 27 metres tall, that's the equivalent of five and a half double-decker buses!
Lagoon-a-chicks
After all that high-speed madness you can cool off in the lagoon which is surrounded by palm trees, sandstone, Balinese huts, a kulkut watchtower and stunning tropical plants. You'll also find that oh so inviting waterfall to wash away any pre-wedding worries.
Alternatively, balloon-atics can take a ride in the giant hot air balloons.
Tropical Dining
You can taste exciting international cuisine; a tropical BBQ, meat, fish salads, or head to the palm beach steakhouse. If you feel the need for a little liquid refreshment there is a wide range of cocktails in not one but four cocktail bars as well as beach bars and a Borneo Cafe serving some incredible tropical ice creams.