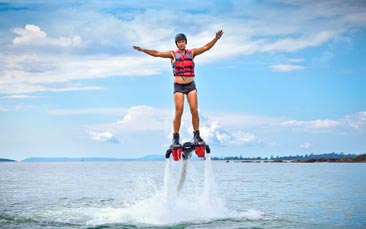 Have you and the hens ever fancied yourselves as would-be Supergirls? Then this is the activity for you. On your extreme water jetpack, mayhem will ensue. You and the hens will fly up to 30 feet above the water using an awesome, cutting edge flying machine.

Take the girls for an experience they'll never forget as they soar through the air on a powerful water jetpack that'll provide some fabulous thrills and spills as they try to steer themselves at the peak of their climb. You'll be strapped into an ultra-modern jetpack that'll shoot hundreds of litres into the water below to transform you into a true Wonder Woman!

But if the sound of that makes you feel a little nervous, don't worry. Our experienced instructors will be on hand at all times to show everyone the ropes and to control your direction in the air. You can be sure that the bride-to-be will soon be flying like a true super-heroine!

It's an amazing feeling when you're 30 feet in the air, looking down on your group and the water below as you really fly. This is seriously fun, flying action that's sure to get all the girls laughing at first, but soon they'll be focused on becoming real-life Charlie's Angels as they learn to steer themselves across the water with some cool skills.

Your extreme water jetpack is sure to provide a unique, thrilling experience to groups looking for some extra excitement on their big weekend. They say that hens are flightless; it's time you proved them wrong!