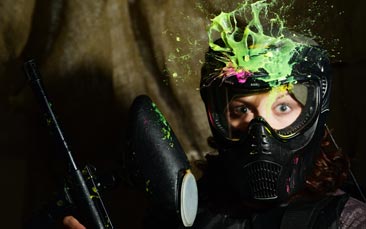 Have you and the girls seen it all before when it comes to hen do activities? Do you crave adrenaline-pumping action of the highest quality? If you're peeved off with pole dancing or if you couldn't care for cocktail mixing, then indoor paintballing is the activity for you!

This is your perfect chance to release your inner 'G.I. Jane', the bride-to-be is sure to be more than a little stressed out in the build-up to the big day, so give her the ultimate stress relief. Best man still not written his speech? SPLAT. Wedding planner trying to change your mind on something last minute? SPLAT. This is one activity where it's totally okay to go full-on bridezilla to take out the opposition!

One huge advantage of taking the girls indoor paintballing is that you'll be taking on the battlefield in controlled conditions. That means you won't end up stuck outside in the freezing rain, having to dive face-first into a puddle of mud to avoid an imminent hail of paintballs.

Instead, you'll take to an awesome indoor course filled with fun pyrotechnics of lightning, explosions and warzone sound effects! Whether you're looking to give the bride-to-be a chance to let some of her rage out, or you just fancy taking on a totally unique hen activity, indoor paintballing is sure to be a winner with the girls. It'll get everybody laughing and after all the paintballs have been fired you'll have had a truly unforgettable day out!