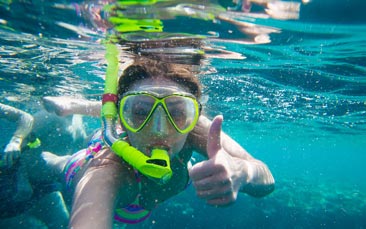 "Under the sea, under the sea, darling it's better down where it's wetter take it from me..." You know, Sebastian the crab was onto something, that crafty crustacean knew how beautiful and wonderfully relaxing things can be just below the surface.
The bride-to-be and her little mermaids will enter a totally new and exciting world. The Adriatic Sea is considered as one of the world's top destinations for snorkelling with crystal clear waters and an abundance of sea life, without the giant predators that threaten other waters. Certainly not your average hen party activity, Hvar snorkelling is for girls that dream bigger and have a real thirst for adventure.
It's also a fantastic way to work on those wedding photo tans.
A guide will greet you, provide you with the equipment and help you adjust the straps and fixings so you have the best experience possible. They'll then lead the way as you head on a short boat trip to the best waters before you all take the plunge.
The scenic coastline is rich with sea life including, starfish, cuttlefish, octopus, crabs and squid which are all commonly found in these waters. Sea urchins and many different fish species can also be found in abundance. The incredibly clear water really does make this the perfect spot for photos if you have waterproof cameras.
Snorkelling is a safe and fun way to really explore the beautiful seas of the Adriatic around Hvar Island. It's also a day of incredible memories and exploration. Plus you'll feel sun-kissed and fabulous!