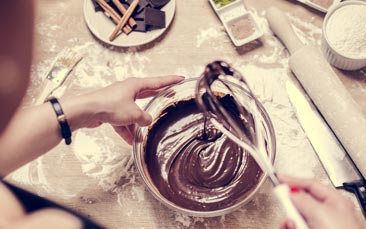 Budapest hen party chocolate making... there are very few things you can do on the planet that are as much fun as this. It basically brings all the bride-to-be's favourite girls and puts them all in one place... with a room full of hot, molten chocolate!!!
Yep, chocolate, it's one of your five a day along with grapes/wine although we're not actually health experts so take that with a pinch of salt... lime and tequila. But what we can categorically state is this is a brilliant hen party activity that is suitable for every group whether it's a mix of young hen friends or a party that includes older family members, everyone will love this tasteful session.
The fun begins with our English speaking guide escorting you to the venue where the English speaking 'Szamos Chocolate Master' will be waiting to greet you (you can add a welcome drink to your session with is a sumptuous marzipan liqueur which is served in an edible chocolate cup!).
You'll have a quick presentation where you'll learn some fab chocolate tricks plus some of the fundamentals of great chocolate making such as tempering, moulding, filling. Once everyone has mastered the basics you'll decorate your creations. And these really will be your very own artisan chocs. As much fun as you will have (and how could you not have fun in a room full of chocolate!) this is actually a really informative session and you'll learn just how easy it is to make your own chocolates which you can try when you get home.
Larger groups will be split with each group taking over a different part of the chocolate making process. All the tools and aprons will be provided and at the end of the Budapest chocolate making hen party session each hen will have 6 chocolates left to take away with her.