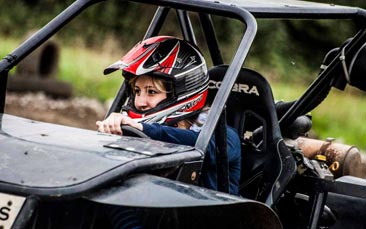 If the bride-to-be is a bit of a speed demon or just someone who loves adventure our fast and furious Bath hen party rage buggies are the ideal way to get off-road and leave all that boring Highway Code nonsense for dust.
Our Bath hen party rage buggies are the ultimate in thrill rides as you get behind the wheel of 620cc rage buggies. If you've not seen a rage buggy before, the best way to describe them; imagine if the Tasmanian Devil was a car... These funky little beasts really are that thrilling. Simply point them in the direction and they'll chew up and spit out any terrain in their path. It's just about the most brilliant and bonkers driving fun you'll ever have on four wheels.
The single-seater vehicles are fitted with roll cage buggies to keep you safe and are capable of reaching speeds of 50 mph but it's all about controlling your speed, timing, braking and mastering cornering if you want to be crowned the champ. So while the driving is really exhilarating, it's almost as much fun to watch your fellow hens take on the twisting and winding course. Who will turn out to be the most aggressive drivers? And who should probably not be let near any poor morning commuters? Ever.
Whether the hens are Sunday drivers or girl racers, our Bath hen party rage buggies are so much fun to drive all the girls will leave the track totally buzzing. And of course, this is racing so each hen will be competing to post the finest time with the winner announced at the end of the session.
But if that still isn't enough excitement for you, you can combine rage buggies with another of our amazing hen party activities to create a complete hen party challenge day:
Assault Rifles
Exploding Archery
Axe Throwing
Please ask our team for more details about combining activities.