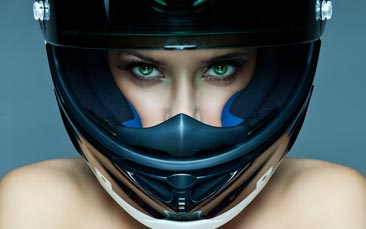 Speed demons can really cut loose on our fantastic Bath hen party go kart track. Any hens that are bored silly of their weekly commute to work, who wish they could just rip up the Highway Code and cut loose this really is ideal.
This is heart-thumping, adrenalin pumping racing from start to finish. All the hens will be completely kitted up in racing overalls, gloves and helmets so you can grab everyone together for a brilliant hen team photo. The instructors will then show you all the controls (which are really easy) before you have a few gentle practise laps. Once everyone has got the hang of things... It's GO TIME!
You'll be racing your fellow hens in a battle to see who will be crowned the 'Queen of Speed' as she takes the chequered flag. The 550-meter circuit is situated in an old WWII aircraft hangar but it's now all mod cons with state-of-the-art 270cc Biz Evo karts that are capable of hitting speeds of roughly "WAAAaaaaaaarrrrghhh!" miles an hour. The karts have adjustable seats and pedals to suit different heights and a wrap-around safety system to keep all the hens in one piece no matter how aggressive their driving. There are also safety marshals on hand to make sure there are no hen on hen road rage incidents.
This is a totally exhilarating event that the hens will be talking about for days and a great way to create some unique hen party memories doing something a bit more out of the ordinary. There's even an onsite cafe for a post-race cuppa or some good old cafe style food (burgers, hotdogs, chips) to feed those speedy hens.