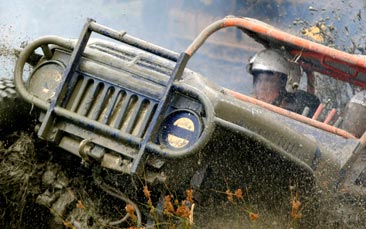 4x4 driving? Half the cars in Sainsbury's car park are 4x4's these days. Driving one of those massive vehicles over rugged terrain, boring! You've walked your dog over trickier ground; in heels! But driving a monster 4x4 over some truly tough terrain... whilst blindfolded? Now you're talking.

If you and the ladies are after some extreme motorsports action with a big twist on your big weekend then look no further than our hen party blindfold driving that's sure to put your steering skills and trust in each other to the test. Let's not be shy about it, us girls have easily got the edge when it comes to driving skills, the boy's inability to ask for directions is the very least of their problems.

However, this is the ultimate test for girls who fancy themselves as queens of the road, as you'll not only be driving completely blind, but you'll also have the worst backseat drivers of all time in the car with your best friends screaming directions in absolute hysterics from the back seat.

Our hen party blindfold driving activity is great fun and is definitely worth a go during any big weekend. It's a unique experience that is likely to be unlike anything the girls have tried before. If you've got girls in your group who don't know each other so well, this is bound to be a fantastic ice breaker, as they have to get involved in a thrilling, fun activity that makes the most of awesome teamwork!

It's bound to get the bride-to-be crying with laughter as the girls try and help her around the skill games on offer here in what's sure to turn into a mad game of vehicular charades.