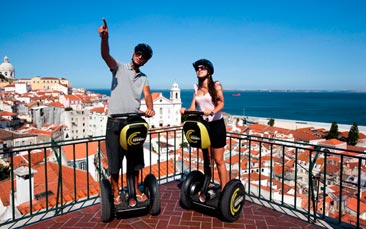 Walking? That's so last century! If you're thinking of going sightseeing (and in a city as beautiful and interesting as Lisbon you really should) then take all the legwork out of the equation and jump aboard your own speedy electric chariot.

It's weird at first as you try and get your head around just how these crazy vehicles work. Once you stop puzzling and get driving they are brilliant fun and really easy to operate; lean forward to go forward, lean back to stop, lean to the left to turn left and lean right to turn right. It really is that simple.

During the tour you'll get to enjoy the sights and sounds of Alfama and the Sao Jorge Castle with a local tour guide, taking in all of Lisbon's famous attractions, old shops, restaurants, parks and much more! Once out on the gorgeous streets of Lisbon, you'll be looking stylish and sleek on your ultra-modern little vehicles. Simply fabulous darling!

It's a great way to really see this incredible city with added insights from the expert local guide who will tailor the tour to suit your group's needs. You'll also get to see exciting places that you might want to explore again later on foot (well, you might be in need of a little pre-wedding retail therapy, it is a hen party after all).

Easy to drive, fun, unique, and the best way to see beautiful Lisbon... sightseeing on top of a speeding electric chariot is the perfect hen recipe; there's nothing more you could possibly ask for!