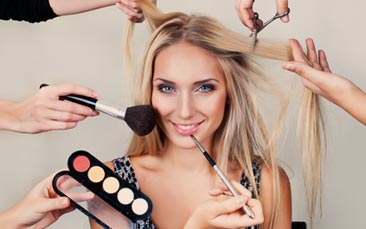 This package is perfect for the bride-to-be and her beloved girlfriends ahead of a huge night out on the town and a fantastic memory for all her hens.

At the hands of our professionals, you'll be given a full makeover in preparation for a superb professional photoshoot. You'll be given the full Gok Wan treatment before getting yourself in front of the camera (although as Gok won't be there, you can keep your clothes on!). The professional photographer will calm the hens for their moment in the spotlight and get that ideal hen snap to remember the party by.

First, you'll be given consultations with beauty professionals who will be able to give you tips on working with your skin tone and PH balance. They'll also show you a few secrets used by top make-up pros and beauty consultants.

You'll then have a makeover, before meeting our professional photographer who will put you all totally at ease before recording your glitzy looks. Each hen will also receive a welcome drink to ease them into the session.

The amazing photos make a great memento of your fabulous hen party and provide you and especially the nearly wed with memories of her special weekend that will last a lifetime.