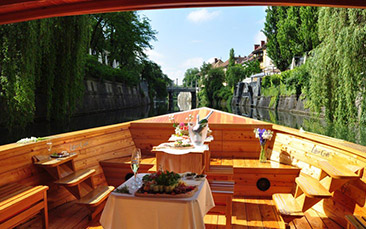 Fancy sightseeing VIP-style? Forget the slow walking tours, overcrowded bus trips and tiring cycling journeys, tour the city with some elegance and grace with your very own private Ljubljana hen party boat cruise. Relax, recline and enjoy as you cruise down the Slovenian waterways taking in the sights and enjoying the unlimited free bar. The perfect way to get to know the city.
This fantastic hour-long boat trip will take you right through the heart and soul of the stunning Eastern European city. Your journey will begin by heading down the Ljubljanica river to the beautiful green space of Park Spica, before you loop back towards the city which will open up stunning views of the impressive Ljubljana Castle, vibrant Old Town and the stunning architecture of the Slovenian capital. You'll pass under a number of striking bridges, too, with Triple Bridge, Grain Bridge and the famous Dragon Bridge all dotted throughout the route.
Whilst aboard you'll be able to enjoy unlimited free drinks and you can also add in a meat or cheese plate for just €30 to save you and the girls the hassle of traipsing around afterwards trying to find somewhere to eat.
So, forget the bus and walking tours, travel the city in style and set yourselves up perfectly for that fabulous evening partying with this incredible boat cruise. The perfect opportunity to punctuate those hectic hen proceedings with a relaxing activity which is guaranteed to go down a treat. Catch up with old friends and get to know new acquaintances as the beautiful city unfolds around you. Ideal.
After your tour soaking up all the stunning sights, carry on the fun with our Guided Pub Crawl. Get in touch with a member of our team today for more information about creating that unforgettable weekend away in Ljubljana.