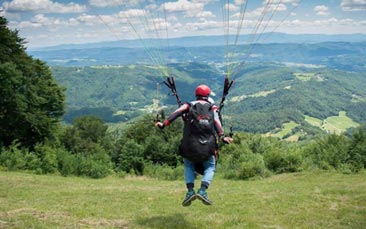 This really is a cut above all other hen experiences. Much higher above. You and the hens can soar like eagles, swooping and gliding over the stunning Slovenian scenery below. Paragliders work by finding air currents and thermals to lift them up into the air, making this a totally serene experience with no engine noise, just the sound of the wind. It's pure non-powered flight and a simply unforgettable hen party adventure the girls will be talking about long after the confetti has blown away.
The bride-to-be's hen party is a truly special weekend and deserves something equally spectacular and this is most certainly it.
You'll be greeted by a team of friendly English-speaking instructors who'll give you a full briefing on what you're about to do. You'll learn about all aspects of the flight, how to equip and stow your chute and learn about take-off and (the even more crucially) landing. Once all that has been done you'll get kitted up, which is the perfect time for those weekend selfies, before hooking on to your instructor and taking to the skies.
This is a tandem flight so you will have an experienced paraglider to keep you airborne. But flying might not suit everybody so only those that wish to take to the air need do so. Or this could purely be a special treat for the bride.
The scenery is absolutely spectacular and the flight is simply breath-taking. Paragliding is something few people ever experience and definitely not your average hen party activity. So if you want to arrange something truly memorable for the big weekend then our Ljubljana hen party paragliding is ideal.