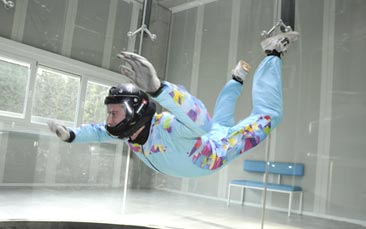 If you've always wanted to try skydiving, now's your chance. Our Ljubljana hen party indoor skydiving experience is even better than actual skydiving because:
It doesn't cost the price of a small aircraft
You won't need to raise thousands of pounds to get sponsored
You won't need to get into a teeny tiny plane
And then jump out
Or be strapped to a beardy ex-paratrooper after his Marmite on toast lunch
Instead, you'll be picked up from your hotel by an English-speaking guide and taken to the flight chamber. You'll be greeted by the friendly team and receive flight training. This will teach you how to ascend and descend while in the flight chamber.
Then you'll get your kit on, jumpsuits, goggles and helmets (and jumpsuits are just the coolest things ever, they're like funky onesies. With pockets! Late night munchie trips will never be the same again).
You'll then enter the chamber one at a time meaning you'll get to watch your fellow hens flying. The tunnel works with a huge fan that shoots air upwards at up to 143 miles per hour creating uplift for you to fly, just like a skydiver during freefall.
Each hen will experience two, two-minute flights.
Flight time: 2 x 2-minute flights
Top wind speed:143mph
Drop equivalent: Over 7,000ft
Flight chamber height: 29.5ft
Flight chamber diameter: 12ft