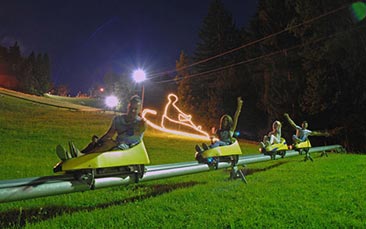 A Slovenian hen weekend has the best of both worlds. On one hand there's the glittering lights of Ljubljana, one of our top party destinations, packed with amazing activities that'll make you say 'Ljubbly jubbly!". And the other? The breathtaking Bled, just North of Slovenia's capital where the hens can stretch their legs and take on something totally different and exhilarating.
A quick 45-minute transfer from Ljubljana and you're in Bled, famous for its beautiful lake and views of the mountainous range of Triglav National Park. It's perfect for an outdoor hen-tastic activity that'll let you and the girls take great leaps of faith on the Bag Jump and take a ride on the all-season sledding track.
When you arrive (and after you've taken a thousand Instagrams of this postcard picturesque place!), you'll be greeted by the instructors who'll show you around the course. Then you'll get a chance to have a go yourselves! Bled Sledding (Bledding?!) can be done in the summer or winter, and you'll get to the top of Straza Bled using the ski lift. On a track that snakes down the side of the hill, the adrenaline will be pumping as you fly towards the lake in one-seater sledding karts with the hens right behind you.
At the end, you'll try your courage at the high-jumping Bag Jump, an exhilarating, heart in your mouth moment as you leap from one of two levels onto a massive bag of air. There's a beginner's level and a higher level for hens who like to show off and do a few flips (we want photo evidence if you do a somersault!). Then, we'll take you back to Ljubljana and your hotel after your session ends.
Track length: 520 m
Elevation difference: 131 m
Top speed: 40 km/h
Average incline: 25.2%